Rubix Removals is a removalist company in Henderson, WA. We are a team of professional and experienced furniture movers who can help you move your home or office smoothly and efficiently. We have the equipment and the expertise to help you move with ease. Whether you need long-distance moves or short-distance removals in Perth, we can help you. We have worked with many commercial and residential clients providing quality services at competitive rates. At Rubix Removals, we will do all the hard work for you and solve all your moving puzzles. Contact our friendly team today!
Reliable Movers in Henderson
At Rubix Removals, we understand that moving can be a stressful experience. Our team works hard to ensure a smooth and stress-free move for all our clients. We have the latest equipment and packing materials to ensure your belongings arrive at your new home in one piece. And we work quickly and efficiently to get the job done on time and within budget. Whether you need to move a few pieces of furniture or move offices and homes, you can rely on us for the best moving services in Henderson possible. Our moving services are also fully-insured, so you can rest assured that all your belongings are in safe and capable hands.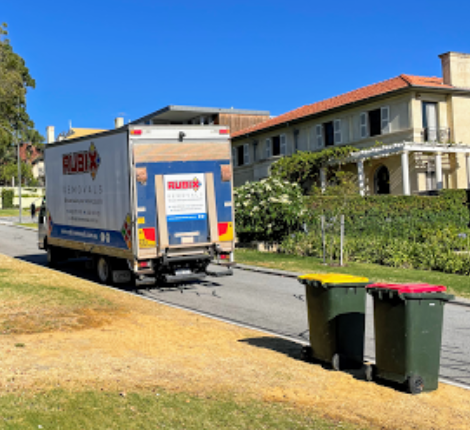 Comprehensive Moving Services in Henderson
At Rubix Removals, we are one of the best removalists in Henderson. We understand that moving can be a stressful experience, so we offer a range of services to help you every step of the way. Our experienced team knows how to pack your belongings and get them safely and on time to their destination.
Our moving services include:
Comprehensive Removal Services in Henderson
Residential Removals - Whether you need to move a few pieces or an entire home moved, we offer flexible and reliable furniture removal services in Henderson. WIth Rubix Removals on the job, you can rest assured that all your items arrive in one piece.
Commercial Removals - Are you planning to relocate your business? Our team can help you move your office quickly and efficiently without disrupting your workflows. We will do all the planning and preparation to ensure smooth and efficient business moves.
Packing Services - Do you need someone to pack up all your belongings so you can focus on other tasks? Our expert packers can help you with our packing services to save you time, money and stress. We also only use quality packing supplies to ensure the safe transport of your belongings.
Storage Solutions - We understand that sometimes you need a little extra time to move into your new home or office. We offer storage solutions so you can take your time and move at your own pace. We have secure and safe storage facilities where you can store your belongings until you're ready for them.
Cleaning Services - We understand that moving can be a messy business. That's why we offer cleaning services to our clients. Whether you need your old home cleaned or your new office sparkling clean, our team can help.
Reliable Removalists in Henderson
Professional Moving Services in Henderson
If you're looking for reliable and experienced removalists in Henderson, look no further than Rubix Removals. With a wealth of experience in the moving industry, our team can help you with all your moving needs. Whether you're moving homes or relocating your business, our friendly and polite movers will ensure you get the best service possible. Contact Rubix Removals today to learn how we can make your move a stress-free experience.
Email: [email protected]
Phone: 0435 837 016
Give us a call, email or text, we endeavour to answer all enquiries within 24 hours on business days.